This is a new series, called Neighborhood Mystique. Here I document some underappreciated neighborhoods in the city with excellent "bones". This is not about neighborhoods such as Northern Liberties or Manayunk; instead, this is about the neighborhoods that could be the next Northern Liberties or Manayunk.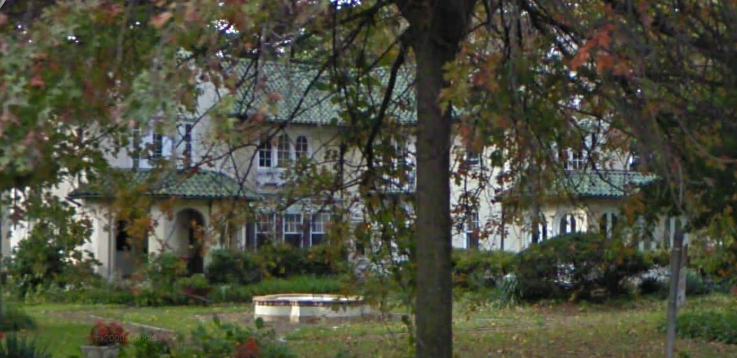 I, like, totally want to live in a house like this.
A true gem. Wynnefield is one of the two Philadelphia neighborhoods traditionally associated with City Line Ave. Developed primarily in two major phases, the bulk of the neighborhood is a late picturesque suburb built for Philadelphia's Jewish population, back when the major Jewish neighborhoods in the city extended around Fairmount Park's west side. Luxuriant mansions in various styles were built along Parkside Avenue, while a beautiful mélange of turn-of-the-century houses stretched back all the way to City Line Avenue.

And this house. Ooooooooh.
Later, in the 1920s, the less-desirable southern third of the neighborhood was developed as a series of Tudor airlites. However, as this was
Wynnefield
, a neighborhood that at the time was the most desirable Jewish neighborhood in the city, the quality that went into these airlites was far greater than in most other parts of the city. More houses keep getting added--all the way down to the present day--in the relatively few lots left after these two major phases of development.
Another beautiful picturesque estate
Its beauty, however, didn't stop it from changing, as the Jewish population left for more suburban neighborhoods during the 1950s. By 1960, Wynnefield had become a middle-class African-American neighborhood, and in the 1980s the crack epidemic hurt it
hard
. Even today, the more urban Tudor airlites of lower Wynnefield are home to a lot of drug problems, even though the earlier picturesque suburban areas have cleaned up and are once again a major bastion of African-American financial security.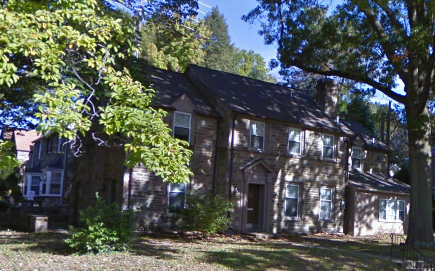 A Colonial-style from upper Wynnefield
Saint Joseph's University, Philadelphia's premier Jesuit college, stretches along City Line Avenue through Wynnefield, all the way from 52nd Street out past Overbrook Station. Its existence provides Wynnefield with its major economic anchor, and also with the neighborhood's most recent changes, as housing close to the college gets repurposed into student apartments for those who wish to live nearby--a change occurring in nearly every campus-proximate neighborhood in Philadelphia. These changes are starting to shift Wynnefield's demographics again, but the bedrock of wealth, whosoever owns it, in this neighborhood, isn't changing.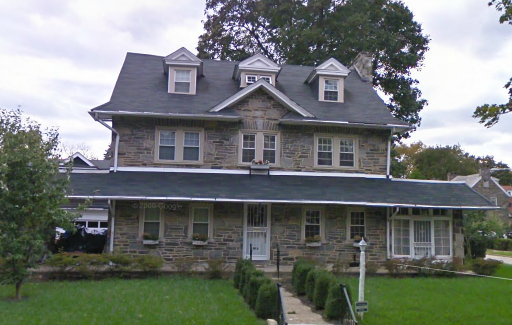 Once upon a time this was what a suburb would look like